For the first time ever, experience the Cookie Academy LIVE on March 7th, 8th, & 9th (which includes 3 days of live training AND my secret sugar cookie recipe) for just $87!
Unleash your inner Cookie Queen and create Pinterest-worthy creations time and time again.
Learn how any busy mama can bake, decorate, and share deliciously delightful sugar cookies
ENROLL NOW
YOU KNOW WHAT I'M TALKING ABOUT...
Ever use the same pan, same ingredients, same oven, and same measurements as the last time...but your cookies come out noticeably different?!
You may know what I mean...
Cookies spreading as they bake #spreadlovenotcookies
Icing that thinned out too much from your outline to your flood
Dough that just doesn't want to come together
Consistency that is too thick EVERY darn time
This "fun hobby" thing of ours - while rewarding as EVER when that unicorn and firetruck eventually come out looking adorable...
It's often a frustrating, time-consuming, and expensive ride to get there.
Yet like most other SMART and PASSIONATE cookiers- you're determined to stay at it and improve your hobby
You....
Sift through Youtube clips...but their ambiguous teaching and edited videos leave much room for guessing
Watch mesmerizing Instagram videos that look gorgeous...but leave you a little deflated when you can't replicate them
Test new recipes, try new methods, tweaks, and repeat...and then repeat some more
At the end of a long tiresome, kid-crazed day...IT BEGS THE QUESTION...
How much time, ingredients, motivation, and sanity is it costing you to keep at it alone and unsupported in your kitchen?
I know you got started with this hobby of yours because you LOVE....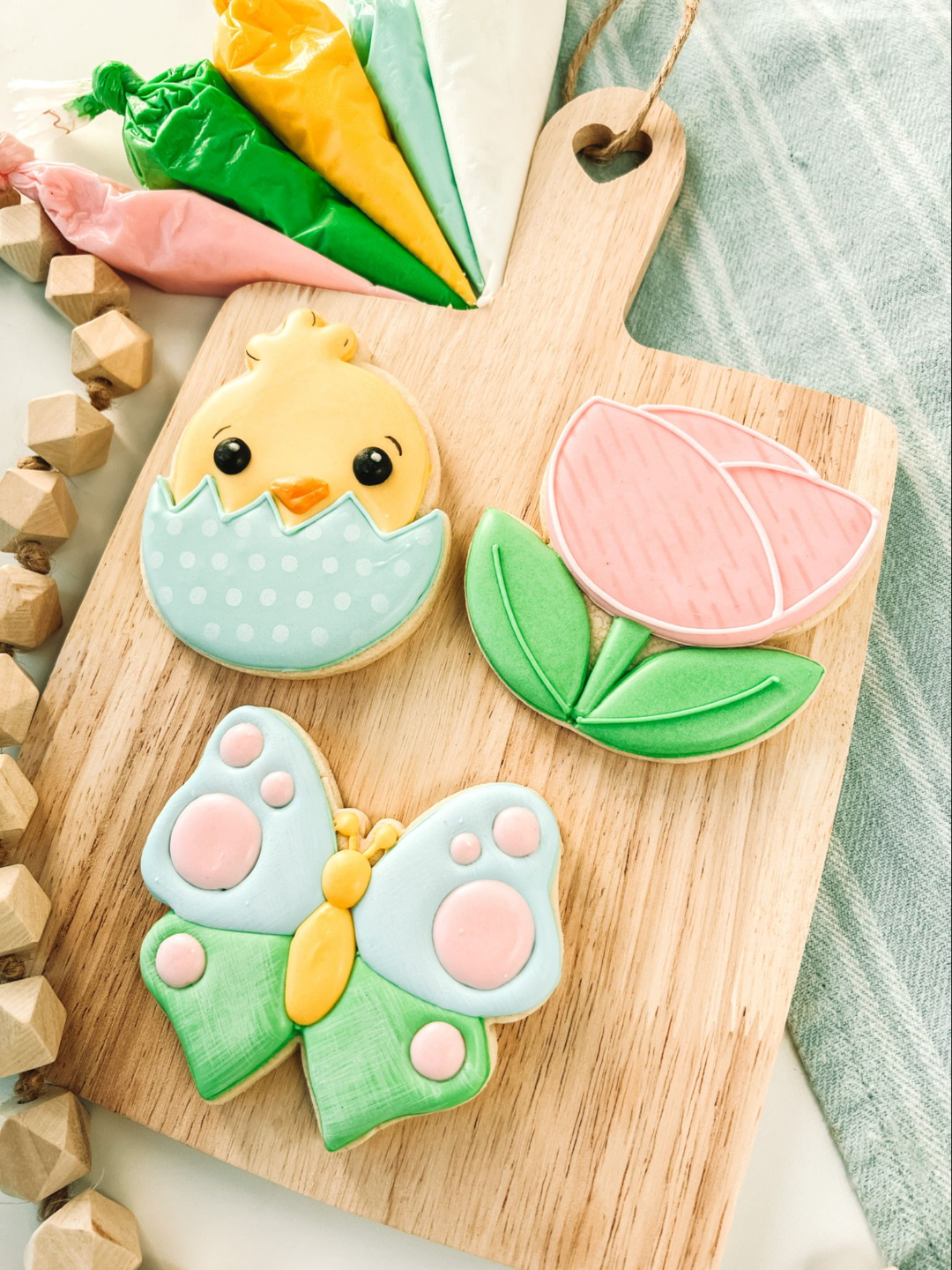 Dishing out massive smiles at every baby shower, wedding shower, and birthday party you bring your cookies to
Feeding your creative outlet through every option you conjure up- unique whimsical roses, colorful unicorns, monster mash-ups, and any other outrageously cute idea
Feeling fulfilled with your OWN passion that inspires and challenges you...Especially after being Superwoman for everyone else in your life - it's nice to have something carved away for "you time"
Wife, mom, hustler, beach-lover, and passionate creator behind Cookie Academy.
I am obsessed with teaching moms like you all about beautiful cookie creations. And as an eeneagram 7, maybe sometimes a little too obsessed. It's baked into my soul to help teach , inspire, and empower women - so you, too, can live out your unique cookie - goal lifestyle.
I've helped hundreds of ladies uplevel their skills, techniques, and bank accounts - and am a true believer that...
Anyone can create gorgeous and yummy cookies if they have the right training and support.
Because that is the thing about personal growth - if helps you think bigger, worry less, and live happier.
If you allow me to show you, I'd be delighted to explain how I plan to help you experience just that.
AFTER 11 YEARS IN THE COOKIE BIZ...
I have distilled down the FOUR pillars that every Cookier needs in their skillset, in order to Up-Level their cookie game
Best Cookie Recipe
A workable, non-spreading cookie that tastes outrageously good. The problem with the decorating industry is that so many teachers go bananas on the design, but fail to establish the important step of the actual cookie. Similar to building a house on unstable ground , this core step needs to be dialed-in before you can move on.
Royal Icing Consistency
No this is not a magic skill , but it DOES require the right technique and know how, so you have the appropriate consistency for what you're creating. Tiny adjustments make a world of difference , and when you're not confident on what that adjustment is, it makes for unconfortable second guessing.
Decorating and Design
I say "know-how" rather than "talent" because this pillar is a LEARNED skill, not a natural currency. It's all about understanding techniques, learning from overflow mistakes, making adjustments, and gradually truning it into muscle memory so you can create the design you want to a 'T'.
Making your cookies "sharable"
If you're planning to share your cookies - they need to be Pinterest-looking, Instagram-ready, and inspirational enough for people to share online. So much of today's world in virtual, which means "a picture's worth a thousand words" is more true today than ever before.
It's these four pillars that have given hundreds of women a new level of satisfaction, an additional pupose with their time, and a hobby that they adore.
These are the exact things that struggled to find anyone explaining, when I first started the journey myself.
This is exactly why I'm pleased to bring you what I believe to be best cookie implementation program for every beginner and intermediate cookie-baker today!
It's time to crank our mixer on high and introduce you to...
The Cookie Academy LIVE is a 3 Day Experience (happening March 7th, 8th, and 9th) is for the aspiring cookier (or home baker) who is ready to take a little help from a friend and master making adorable sugar cookies, that look perfect every single time.
So What's Included in the Cookie Academy Experience??
There will be 3 Days of LIVE training, approximately 90 minutes long plus a Q&A at the end (on March 7th, 8th & 9th).
LIVE TRAINING DAY ONE
We'll start at the beginning with making the perfect cookie dough. Your no-spread cookie dough recipe is the foundation for all the pretty stuff. If this doesn't start right, your whole cookie will crumble (literally).
LIVE TRAINING DAY TWO
Next we'll make the most perfect royal icing, in various consistencies so you can master the decorations you've been dying to try out.
LIVE TRAINING DAY THREE
Last but not least, we'll pull it all together and decorate SIX different adorable cookies:
A Cupcake,

Wedding dress,

Apple,

Baby onesie,

Ice Cream Cone, and an

Easter egg
MY SECRET SUGAR COOKIE AND ROYAL ICING RECIPES
The question I get asked more often that not is "DO WE GET YOUR SUGAR COOKIE RECIPE?!"
The answer is finally YES!! In the Cookie Academy is where I put my tried and true, no spread, delicious sugar cookie recipe. AND you'll get my royal icing recipe as well!
LIVE Q&A and Session Replays (for 24 Hours)
Our goal is for you to leave this session with everything you need to jumpstart your sugar cookie experience - getting your questions answered in real-time is one of the biggest pieces to that!
If you can't make the sessions live, you'll have 24 hours to check out the replays!
COOKIER COMMUNITY
Everything is better (and easier) with friends, right?? In the Cookie Academy Experience, you'll get to be with over 500 of my member who have all gone through the Cookie Academy themselves and are excited to welcome you in with open arms!
Finally, learn to make cookies that not only taste GREAT but are even cuter than the ones in you see on Instagram!
Here's a taste of the cookies we are going to make LIVE together:
JOIN SUMMER'S COOKIE ACADEMY LIVE
In the Program, you'll Experience:
Three days of LIVE training (including 24 hours of replays)
Summer's Tried & True Sugar Cookie Recipe
The Perfect Royal Icing Recipe
BONUS: Cookier Community
BONUS: LIVE Q&A Session with Cookie Expert Summer Deepe
Happiness Guaranteed
You're here because you want to improve your cookie skills and create Pinterest-Worthy creations.
What I've laid out for you inside Cookie Academy LIVE has helped hundreds of women will all varying backgrounds, experience, time constraints, and skill levels. And that's why I know that if you're passionate about learning this stuff, it will work for you as well. Once you join our family, my promise is to go above and beyond to give you an exceptional experience, providing you with every piece of content that I have poured my heart into over the last decade as a baker and mompreneur.
Therefore, to protect the integrity of our community along with privacy of the training and recipes that I have devoted years to perfecting, there will be no money back guarantee. I'm investing my entirety into this program, and I aspire to attract the same committed and driven mamas in return.
I'm 100% confident that this course will get you to where you want to go as you level up your cookies and grow your income.
Have a question??
Here's some common questions from members of our community:
What if I'm not artistic?
What if I've already done Summer's Cookie Academy Course?
What if I can't make it LIVE?
When is the LIVE Session?
"Summer has been a wonderful support to what is now my cookie business. She has provided me with the tools to create beautiful and tasty cookies that my family, friends, and customers love!
Shelly D.
Member of Summer's Cookie Academy , Owner of Shelly's Sweets
"Summer's teachings and guidance have empowered me to up-level my baking kills and business acumen...my business has grown exponetionally. Investing in Summer's Cookie Academy is a great investment if you're looking to improve your skill set at any level."
Debbie W.
Member of Summer's Cookie Academy
"Taking Summer's class gave me such a foundation of decorating cookies that I have been able to make my own cookies with confidence to take to parties and events. I could not rave about her enough!"
Jayme H.
Member of Summer's Cookie Academy